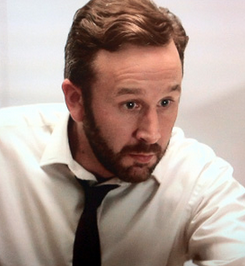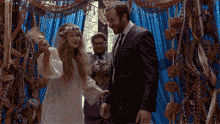 Thomas-John Anderson is a minor character on Girls played by Irish actor Chris O'Dowd.
Bio
Thomas-John is presumably an only child, and both of his parents are still living. He became an affluent venture capitalist sometime before the beginning of the show. He also lives in a fancy Brooklyn apartment.
Season One
Thomas-John is first introduced when he buys Jessa and Marnie drinks in Weirdos Need Girlfriends Too. The three go back to his place where he fails to achieve a threesome with the girls, and kicks them out for spilling wine on his carpet.
He ends up marrying Jessa in a surprise ceremony in the She Did, where he says during their vows how he tracked Jessa down since he felt more happy and invigorated in years after they met. He's last seen with Jessa during their first dance as husband and wife.
Season Two
Thomas-John and Jessa return from their honeymoon in It's About Time, and realize just how impulsive their marriage is due to their lack of knowledge about each other.
The pair have moved in together in I Get Ideas, and are trying to adjust to a happy married life.
Thomas-John and Jessa later imply to Hannah that they have matching tattoos, and he gives Jessa three puppies.
Thomas-John takes Jessa to meet his parents in It's a Shame About Ray. The dinner ends up being a disaster when Jessa offends his' parents with stories about her atheism and former heroin use. When Thomas-John tells her how inappropriate her behavior was back at their apartment, Jessa quickly becomes furious and says she's embarrassed at how average he is. Thomas-John then offers to pay her off if she'll leave. She asks for $30,000. He was thinking more along the lines of $10,000. She's get's upset, and shatters his triangular humanitarian award.