Hostage Situation is the second episode of the sixth season of Girls. It was written and directed by Lena Dunham. The episode originally aired on February 19, 2017.
Hannah reluctantly agrees to accompany Marnie and Desi on a weekend trip to Poughkeepsie, in order to provide Ray with a cover story.
Shoshanna and Jessa film a happy birthday video for their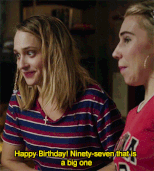 grandmother. Jessa is eager to reconnect, so when Shoshanna reluctantly tells her about a female networking event that night, Jessa invites herself along.
Shoshanna brings Elijah to her networking event at "Wemun," a new female social club founded by two of her ex-best friends from college who now run their own clothing line, Rachel and Zeva. While Shoshanna is totally in her element and soaks in the scene, Elijah and Jessa have a hard time keeping straight faces through the evening. At the end of the night, Shoshanna and Jessa get into a blow out fight due to Jessa's behavior, and the fact that she blew off her spring break trip with Rachel and Zeva to be with her.  She accuses her of ruining her life, and eventually orders her to get out of her face.
At their rental house upstate, Marnie questions Desi about a bottle of pills she finds. He confesses the pills are Oxycontin, and that he's been abusing them for over a year. In shock at this revelation, Marnie is even more hurt to find out that Desi was high at their wedding. After shutting Desi out of the house, Hannah gently explains to Marnie that she didn't notice Desi's addiction because she spends too much time thinking about herself; something that Hannah admits she understands all too well. She reaffirms their friendship, and eventually helps her take Desi home.
- The part where Shoshanna throws food at Jessa during their argument was improvised.
- Lena Dunham wanted the rental house scenes to be reminiscent of the film Straw Dogs.
- When Jessa and Shoshanna are recording a video message for their grandmother's birthday, the book The New Handbook of Cognitive Therapy Techniques can be seen on Jessa's desk.
- According to location manager Suk Yi Mar, The Painted Pearl Tea Shop and Book Store is a real antique shop in New York where Hannah, Desi, and Marnie stop during their trip.
Community content is available under
CC-BY-SA
unless otherwise noted.