Goodbye Tour is the ninth episode of the sixth season of Girls. It was directed by Nisha Ganatra and written by Lena Dunham and Jenni Konner. The episode originally aired on April 9th, 2017.
Hannah interviews for a position at Bard College. She meets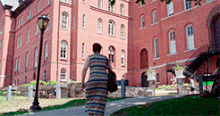 with a dynamic creative writing professor, Phaedra, who discovered Hannah's work online and thinks she would be a good fit for their student's. Heading back to the city, Hannah receives a job offer.
Elijah doesn't understand why Hannah wants to leave New York. He tries his best to convince her to stay, but she's focused on finding a better environment for her baby. Later that night as they both try to fall asleep Hannah asks Elija if he'll sing to her. He launches into an acapella rendition of "Cool for the Summer."
The next day as Hannah's still trying to figure out what to do, she runs into Caroline outside her building. Who encourages her to move away from New York and all that comes with it.
In need of advice about her move, Hannah heads to Shoshanna's apartment only to find the other girls there celebrating Shosh's engagement; Hannah was intentionally left off the guest list. Marnie calls a group meeting in the bathroom, hoping to resolve their friendship issues. The conversation isn't very productive and ends in Shoshanna declaring she has moved on from her friendship with all of them.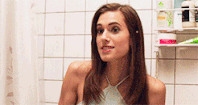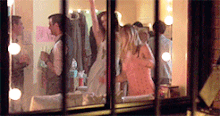 Unable to avoid each other any longer, Jessa and Hannah tentatively make peace end up standing alone together, and after some stilted small talk, Hannah reveals she's having a boy and hasn't really told anyone yet. She shares her fears about how to raise a male, but Jessa assures her that he'll be fine. They both apologize to each other and tentatively make peace. In one final hurrah, the girls end the night dancing in the apartment.
Hannah officially leaves the city and moves into her new home upstate.
According to Dunham, this episode acts as a more traditional series finale while the actual series finale "Latching" served as an epilogue.
This episode marks the final episode to feature all four female leads together. It is also the final appearance of Elijah.
The "group meeting" between the girls was initially meant to take place in the living room, but Jenni Konner suggested they do it in the bathroom since many notable moments from the show have happened in bathrooms.
The scene was also the first time they have filmed in Shoshanna's bathroom with the door closed given how small it is.
An alternative line for Shoshanna was for her to say that the last six years have been a waste of time.
Community content is available under
CC-BY-SA
unless otherwise noted.