Dill Harcourt is a minor character on Girls. he's played by actor Corey Stoll.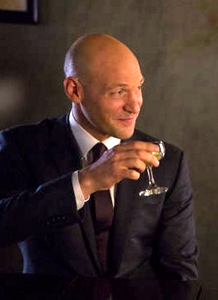 Biography
Edit
Not much is known about Dill's early life, but he became a news anchor for some TV network. As an openly gay man, he enjoys a bachelor's lifestyle with many casual relationships.
Season Five
Edit
Dill is introduced in Good Man when he buys Elijah a drink at a bar, and the two end up talking. He later pulls up by Elijah in his car after they say good-bye outside, and gives him his card.
He takes Elijah out on their first date in Old Loves to a fancy Manhattan restaurant where they're supposed to be meeting a couple of his theater friends. He notices Elijah's nervous behavior, and tells him that he shouldn't accept the kind of relationship where he wouldn't get to meet his friends. They later end up at Times Square where he has Elijah jump into fan photos with him, and they share a passionate kiss in front of the whole crowd. He then takes Elijah home, and they have sex for the first time.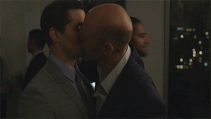 While having a dinner party in Hello Kitty, Dill reassures Elijah that he's happy to have him there. When he finds Elijah hiding out in the bathroom, he's confronted over him secretly seeing other guys. At first, Dill chalked his relationship rumors up to gossip, but then he admitted that he has a lot of friends, and if Elijah doesn't like it then he should leave. He later shows up to Elijah's apartment drunk, and apologizes to him over not telling him about his other relationships. Dill then tries to initiate sex with him before falling asleep.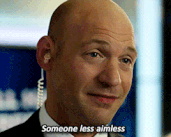 He's surprised by Elijah at his job in Love Stories, and confesses that he wants a more serious commitment from him.
Dill ends up rejecting him by saying he's looking for who's less aimless, but says he'll think of him everytime he goes to Brooklyn.
- Though they never had any screen-time together, Stoll had previously worked with Adam Driver for the 2014 film This is Where I Leave You. He played Paul, the older brother of Driver's character.